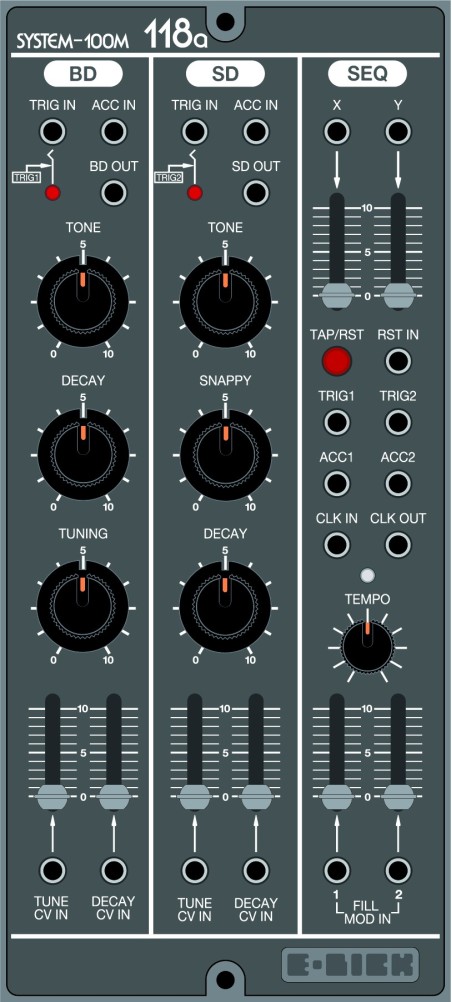  
M-118a Drum Seq
M-118a is a part of our M-100 Series modules fully compatible with the Roland System 100M series rack.
M-118a is a full analog drums modules combined with a dedicated sequencer. Drums are analog bassdrum and analog snaredrum inspired by the famous Roland TR-808 Drum computer combined with a two tracks trig sequencer inspired by the unique Mutable instrument GRIDS sequencer. Many thanks to Emilie GILLET, creator of Mutable instruments, to let me use and customize his sequencer.
M-118a is sold as a partial kit or preassembled kit
The preassembled kit includes all needed parts with all the board components presoldered, you only need to mount the PCBs and faceplate together and put knobs.
CAREFUL: It is still a DIY kit so success is not guaranteed. Follow the assembly guide carefully and double check every step.
The partial kit includes:
-A anodized aluminium faceplate
-All PCBs
-All Potentiometers and sliders with knobs
-All 3.5mm jacks
-2x LM13700 Dual OTA
-A preprogrammed Atmega328P with last updated firmware
-All connectors (Din8, Headers...)
-All fasteners needed to complete the build
You can find a detailed list of included parts in the partial kit in the assembly guide. The partial kit does not include all common electronic parts like resistors, capacitors, leds, diodes and integrated circuits. You must order this Mouser BOM to complete the kit. Go to the link, scroll down to the bottom of the page and click "Order Project" or you can use your own stock of components helping you with the iBOM
DOWNLOAD:
Customers who bought this product also bought: